INDEX:
PAGE 1: FRANKFORT KY COMMERCIAL REAL ESTATE FOR LEASE OR SALE
PAGE 2: LOUISVILLE KY COMMERCIAL REAL ESTATE FOR LEAST OR SALE
PAGE 3: FRANKFORT KY RESIDENTIAL APARTMENTS FOR RENT
PAGE 4: Buy, Sell, Trade
=======================
PAGE 1
FRANKFORT KENTUCKY COMMERCIAL & INDUSTRIAL LISTINGS:
=========

PROFESSIONAL OFFICE SPACE FOR RENT: 801 Schenkel Lane

801 Schenkel Lane, Office Suite 200, Frankfort KY 40601- LISTING TYPE: OFFICE PARK :
LEASE AMOUNT: $12 PER Sq Ft., $6,800 PER Month
Rent Includes: Electric, Water, & Sewer Utilities!
ONLY ONE SPACE LEFT! Available FOR LEASE: PROFESSIONAL OFFICE SPACE, CORPORATE HEADQUARTERS
Move in ready, or pick a new wall color and we'll paint (no extra cost). This area is a former state government office(s) that is now available and in great condition and won't last long. Beautiful building inside, and ready to use. 50 Designated Parking spaces with lease and additional parking available if needed. This space has existing cap5 data and phone cable run to offices from a data room. Lease includes utilities (water, electric, HVAC, fire suppression system, fire hydrant, security lights, gas) and CAM (Common Area Maintenance). 22 Private Offices, Extra Large Conference Room, Break Room, Rest Rooms. All ready for your team.
=============
DUPLEX - INVESTMENT PROPERTY FOR SALE: 822-824 KENTUCKY AVE.

INVESTMENT PROPERTY (DUPLEX) (BOTH SIDES FOR ONE MONEY!)
822-824 KENTUCKY AVENUE
FRANKFORT, KENTUCKY 40601
CALL TODAY! 502-330-6212
Price: $75,000.00
Fully Rented!
NEW ROOF IN 2014 ENJOY RENTAL INCOME!
TURN KEY CASH FLOW:
BOTH SIDES FULLY RENTED WITH $950 PER MONTH INCOME!

Property Information:
Duplex, fully remodeled and both sides fully rented. It has new interior paint throughout both units. New roof, new carpeting, remodeled kitchens, new plumbing, lots of improvements . Each side boasts a large living room, two extra large bed rooms, eat in kitchen, full bath, and utility room w/ washer & dryer hook ups. This is river front property with a spectacular view of the senic Kentucky River. The yard is partially fenced and a city park is located behind. A very nice detached storage unit is in the rear of the lot. Priced for turn key positive cash flow. Each side is separately metered.
=============
COMMERCIAL LAND FOR SALE: 980 OLD LAWRENCEBURG RD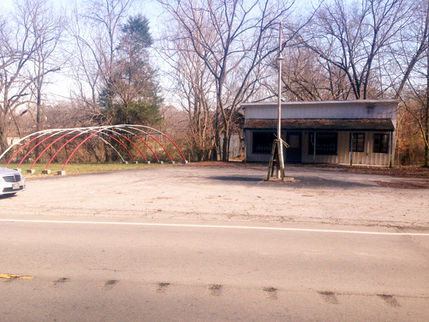 980 OLD LAWRENCEBURG RD
FRANKFORT, KY. 40601
Price $85,000.00
Aprox 1/2 Acre land, zoned COMMERCIAL
Buy the land and get the building and parking lot free! Building needs to be torn down or fully restored.

All Utilities On Site: City Water, FPB Electric, City Sewer. Building needs to be torn down or fully restored.
---
===============

MIXED-USE COMMERCIAL BUILDING FOR SALE:
200 West Broadway and 400 Ann St. (Corner property with two addresses).

200 West Broadway & 400 Ann St.
Frankfort, KY. 40601
Price: $600,000.00

Interior photos above are for residential suite 300.
This property features 4 residential units and two commercial spaces.
Located in the heart of the dowtown historic business district.
Next to the Kentucky History Center and one block down from the Old Capitol.
On the same block of lots of restaurants and shopping.

=============

COMMERCIAL PROPERTY FOR SALE: 333 West Broadway

333 West Broadway, Frankfort, KY. 40601
Commercial / Residential Space
Front rooms used for Retail Store, back rooms used for residential use.
Price: $450,000.00

===========

KENTUCKY RIVERFRONT DEVELOPMENT SITE!
COMMERCIAL LAND FOR SALE: 111 Capital Ave.

111 Capital Ave., Frankfort, KY. 40601
3.16 Acre Land in the Capital Corridor of Downtown Frankfort, Ky.
Prime River Front Development Land
Price: $3,000,000.00
=============